Gooseberries (RIBES HIRTELLUM)
Plants are well rooted and are over 12 inches tall

Varieties are disease resistant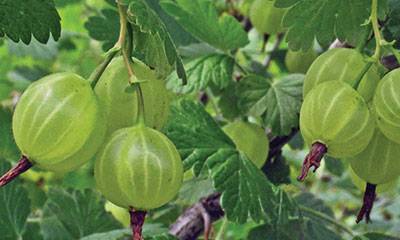 Varieties Available
Bundle = 5 plants
Ships Spring & Fall
PIXWELL
- Produce large, long-stemmed, green berries that turn pink when ripe. *PROHIBITED IN SOME AREAS. CHECK WITH YOUR LOCAL DEPT. OF AGRICULTURE. (zone 3-7)
$24.00 / bundle for 1-3 bundles
$22.80 / bundle 4-9 bundles
$21.60 / bundle 10 or more bundles
CAPTIVATOR
- Almost thorn free, mildew resistant. Sweet purple fruit. *PROHIBITED IN SOME AREAS. CHECK WITH YOUR LOCAL DEPT. OF AGRICULTURE. (zone 4-8)
$24.00 / bundle for 1-3 bundles
$22.80 / bundle 4-9 bundles
$21.60 / bundle 10 or more bundles
INVICTA
- Large, sweet, green berry. Known for it's heavy production. *PROHIBITED IN SOME AREAS. CHECK WITH YOUR LOCAL DEPT. OF AGRICULTURE. (zone 4-8)
$24.00 / bundle for 1-3 bundles
$22.80 / bundle 4-9 bundles
$21.60 / bundle 10 or more bundles
HINNOMAKI
- Large, red, sweet berry on a compact, thorny, deciduous shrub.*PROHIBITED IN SOME AREAS. CHECK WITH YOUR LOCAL DEPT. OF AGRICULTURE. (zone 4-7) (zone 4-7)
$24.00 / bundle for 1-3 bundles
$22.80 / bundle 4-9 bundles
$21.60 / bundle 10 or more bundles
Plant Details:
Remove plants from shipping box immediately. Keep roots moist at all times. Store plants in a cool place. Plants will break dormancy very early, mid-April. Suggest at that time to heal plant in ground outside, to avoid long tender shoots, or plant in a container.
Will grow in a range from 5 to 8 pH. Prefers a will drained soil, as it makes most of its early growth in early spring.
Early spring (April - May)
Place in hole large enough to accommodate all of the roots. Plant so the top roots are at least 2" to 3" below ground line. Pack soil firmly around plant and water immediately. Space 2 feet apart.
On the outer edge of your vegetable garden as it will produce fruit year after year and requires no pruning. A 4 to 5 year old plant will reach a maximum height of 4 feet.