Browse the product links to SHOP ONLINE or print/mail our ORDER FORM
Jostaberries
Cross between a Gooseberry and a Black Currant.
Jostaberry is thorn free, vigorous growing and disease resistant. High in Vitamin C.
Jostaberries grow best with a soil PH between 6.0 - 6.5. Ideal soil is fertile, loamy and well drained.
Plant the berries roughly 2 inches deeper than they originally were in the pot or in the nursery row if they are bare root.
Space your plants 3' to 6' apart
Fill around the roots with soil and firm it down.
Fertilize and give your plants a good watering. If fall planting wait to fertilize in the spring.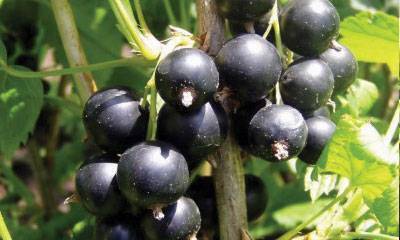 Varieties Available
Bundle = 5 Plants
Jostaberries - Fruit is high in vitamin C, and is ideal for eating fresh or for juices, jams and jellies. (zone 4-7)
$4.80 / plant for 1-9 plants
$4.56 / plant 10 or more plants
---
Plant Details:
Remove plants from shipping box immediately. Store plants in a cool moist place. Wet roots occasionally, but very lightly. If kept in 50 degree room, when plants are planted outside it may take up to two weeks for the plants to break dormancy.
Will grow in a range from 5.5 to 6.5 pH. Any type of soil will do. Plants should not stand in water during winter as roots will rot.
Fall or Spring. If fall planted suggest putting a 6" mound of soil around base of plants. Remove this soil in April. Buds on fall plantings may be injured by frost in early spring. If spring planting, wait until frost period is over to plant.
Dig a trench 3" wide and 10" to 12" deep. Place roots in bottom of trench and cover with soil. Main stem of plant should be 1/2 to 1/3 below ground line. Plants should be spaced 5 to 6 feet apart. Vines should be put on a trellis or wires second year.
Should be planted in a single row bordering vegetable garden, or in front of a fence.