Browse the product links to SHOP ONLINE or print/mail our ORDER FORM
Blackberries (Rubus Ulmifrolious)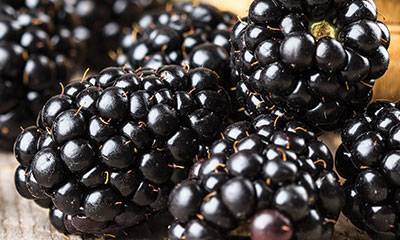 Varieties Available
Pricing Per Plant
Arapaho - Early berry, grows erect and produces large firm berries. (zone 5-8)
Ships Spring Only
$5.70 / plant for 1-9 plants
$5.42 / plant 10 or more plants
---
Hull - Produces large, mild flavored fruit on a trailing bush. Winter hardy. (zone 5-8)
Ships Spring Only
$5.70 / plant for 1-9 plants
$5.42 / plant 10 or more plants
---
Chester - Produces large, sweet, high quality fruit. Late season and very productive. (zone 5-8)
Ships Spring Only
$5.70 / plant for 1-9 plants
$5.42 / plant 10 or more plants
---
Triple Crown - Bears its sweet, large fruit mid-season. Bush grows semi-erect and is very productive. (zone 5-8)
Ships Spring Only
$5.70 / plant for 1-9 plants
$5.42 / plant 10 or more plants
---
Apache - NEW! Erect bush produces a large, sweet fruit. Very productive. (zone 5-8)
Ships Spring Only
$5.70 / plant for 1-9 plants
$5.42 / plant 10 or more plants
---
Natchez - NEW! One of the earliest blackberry varieties. Large, very sweet berries. Plant is semi-erect and disease resistant. Zones 6-8
Ships Spring Only
$5.70 / plant for 1-9 plants
$5.42 / plant 10 or more plants
---
Darrow- THORNY - Large, sweet berry, vigorous growing, VERY THORNY and is rust resistant. Plant grows upright. (zone 3-8)
Ships Spring Only
$5.70 / plant for 1-9 plants
$5.42 / plant 10 or more plants
---
Plant Details:
Requires neutral soil, a pH of 6.5 to 7. Will grow in clay, sandy soil or any type of black soil. If potting, any type of potting soil will do.
The top root on the cane should only be 1" below the ground line. If planted too deep, it will not grow a new shoot from the base of the plant. Plants should be spaced 3 to 4 feet apart.
Plant before May 15 as a blackberry is a cool weather plant.
1yr.-No. 1 are 3/16" and up at collar (bottom of plant above root.)